Ocean City Inlet
Located 29 NM South of the Cape Henlopen, DE, 35.4 NM North of Chincoteague Inlet, VA, and 93.9 NM North of the Chesapeake Bay Inner Approach Buoy. The Ocean City Inlet provides access to Ocean City, MD, Isle of Wight Bay (Shallow Draft) to the North, and Chincoteague Bay (shallow Draft) to the South.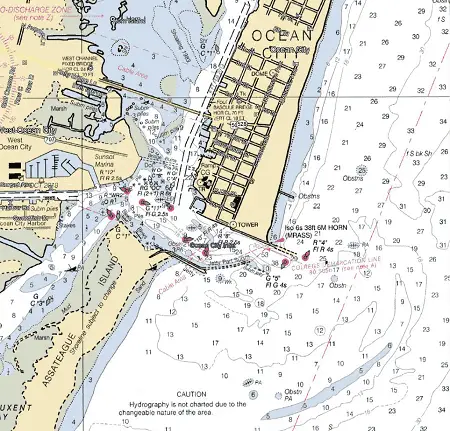 NOAA Chart #12211 - Fenwick Island to Chincoteague Inlet is suggested for the approach and entrance to Ocean City Inlet
Approach
The safest approach to the Ocean City Inlet is from the northeast through the southeast. The approach is deep with depths greater than 20 feet with few off-lying dangers.
Prominent on the approach to Ocean City Inlet are numerous water tanks and high-rise condominiums are prominent along the beach. A large, cylindrical water tank, about 1.5 miles west of Ocean City Inlet, is prominent and is a good landmark while entering the inlet. A 200 foot long fishing pier is 0.2 NM north of the north jetty.
The approach buoy is lighted (R "2" Fl R 4s BELL) located 1.15 NM east of the inlet at 38°19'26" N / 075°03'41" W.
Entrance
The entrance is between stone jetties, partially to fully submerged at their outer ends. The north jetty is marked with a lighted beacon (Iso 6s 38ft 6M Horn (MRASS)) on its inner end and a lighted buoy (R "4" Fl R 4s) marking the outer end.
The entrance channel depths range from 19 to 53 feet. It is well-marked with lighted buoys. A charted shoal covered 5 feet lies just north of the marked channel at the inner entrance.
Cautions
A large shoal area lying 0.5 NM SSE of the entrance, covered 4 to 6 feet, should be avoided. Ocean City Inlet is subject to continual change. Caution, heavy summer recreational boat traffic.
Tides & Currents:
Tidal range at the entrance is ≈3.3 feet. A strong ebb current exists within the inlet.